Today, I'm excited to announce the v1.3.4 release of our Wordpress plugin which has all new integration with Google Maps to give your visitors a better Real Estate property search experience.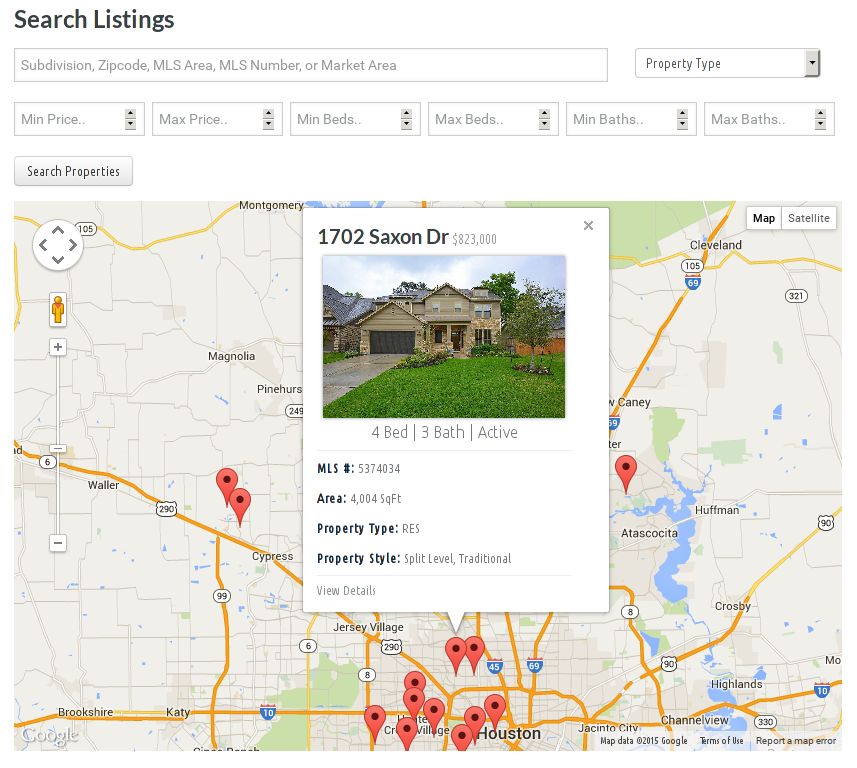 SimplyRETS believes in making IDX and RETS searches better and easier to user. We're constantly looking for ways to improve both our Wordpress Plugin and our API in this regard.
Features
The update comes with a suite of new features and options that are still just as simple to use:
Multiple map position options to give you control over what the user sees
Views for both search results and single listings
Info Windows with detailed listing overviews
The ability to turn map views on and off on a page by page basis
…and as always, free support for our SimplyRETS Tech Support team.
Getting Set Up
If you already have the plugin installed, getting the new map features is as easy as upgrading the plugin through your Wordpress dashboard.
If you don't, now is as good a time as ever to get started. You can install the plugin from the Wordpress directory. We offer free demo listings so you can test out the new features without needing and account. When you're ready to get your listings on your site, you can create an account and get live listings ony you site today!
Creating a map page
By default, the map view will show on all search pages along with the list view. This makes it easy for your visitors to choose listings from an area on the map, or from the list view overview. The quickest way to get started is to create a new SimplyRETS Post (SimplyRETS -> New SimplyRETS Page), give it a title, and publish!
Customizing the Map Position
If you would rather show the map view below the list view, or only show the map view, that's a simple setting. In your dashboard, navigate to the SimplyRETS settings page (Settings -> SimplyRETS). Under the Map Settings section, you'll have a few options:
Only Show List View
Only Show Map View
Show Map View Above List View
Show Map View Below List View
Pick the setting you think will be best for your visitors, and hit save. This setting will affect all search pages (any page with multiple listings on it).
Disabling the Map View in Specific Places
If there is area your site where you would rather not show the map view, you can easily disable it in specific places. When you use the shortcodes to insert listings in posts or pages, it may not be ideal to have a map take up a lot of space. To do this, simply add the showmap_ parameter to your shortcode and set it to false. Example:
[sr_residential show_map="false"]
Single Listing Map Views
Single listing map views are endabled by default, and will show on details pages about specific properties. At the top of each page, there is a 'View on Map' link (right next to our lead capture link!), that will take them to the map - which lies on the same page. There's no difficulut configuration here - just a simple way for your visitors to get the best possible information about the property they're viewing.
What's next?
We're constantly working on new features and brainstorming new ideas about how we can make a better IDX and RETS search. If you have a great idea that would be beneificial to you as an agent or developer, send us a message and let's talk about making a better RETS API and Wordpress plugin! We'd love to hear what you need or what we can do to help your next big project become a success.
---
— Cody @ SimplyRETS
Don't forget to sign up to our atom feed